WELCOME TO THE GEAR LOCKER
Where your Donation becomes a kw creation!
Our way of saying thanks for your generous support!
Your donation is important to us, and because of this, we would like to offer you a gift for your generosity. Check out the gear on this page that we have currently available, including the various colors and styles for certain tees and hoodies. Select the number of items, colors, and sizes that you would like to have and place them into the cart. Be certain to include all of your information, including your name, address, email, and phone number. Donation amounts are listed with each item, and your final total donation will be calculated within the cart. Once we receive your donation and your gift order, we will send you the item via USPS. It's that simple! Be sure to check back frequently, as we often have new colors, new styles, and more products to offer! If you have any questions, email us at info@keystonewarriors.org.
Thank you in advance for your support. It is because of friends like you that we are able to assist our wounded veterans!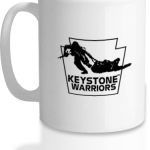 The official registration of financial information of Keystone Warriors may be obtained from the Pennsylvania Department of State by calling toll free within Pennsylvania (800) 732-0999. Registration does not imply endorsement.